客户名称
:szcambo摄像头
客户网址
:
http://www.szcambo.cn
客户介绍
: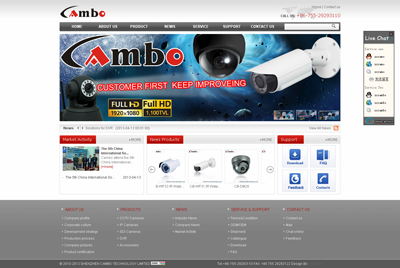 Welcome to Shenzhen CAMBO TECHNOLOGY Co.,Ltd. we are the fastest growing manufacturer & exporter specilizing in versatile security cameras for homecommercial uses. Since 2005 we began to focus on IR camera researchdesign. With great determinationconfidence, we have taken a aggressive market presence in ir day/night camera market.
our products consists of all kinds of Black & White, Color cameras. Using SONY,SHARP,LG chipsets CCD. They are waterproof IR camera, vandalproof camera,dome camera, box camera, mini camera, board camera etc. We also provide CCTV related equipments online to have all our customers enjoy more convenient as well as valuable life.
We are pround that we have an integrated management system in product design, qualityperformance, advanced manufacturing equipment including SMT, aging roomR&D team covered with product, structure; electronics ,hardware ,that assist us for an prompt technology supportprompt delivery .
Our objectives:
Customers
Our customers are the prime reason for our existence, with this in mind we strive to meetsurpass our customer requirements in everything we do. We measure our success on the basis of customer feedbacksatisfaction. Our superior after sales service keeps our customers needs fulfilled when it matters most.
Quality
We never compromise the quality of our productsworkmanship. We at B-Secure recognise quality as a state of mindthis is reflected in our constant positive feedback from our fast growing client base.
Honesty
Honestyintegrity are the principal means of establishing trust which we feel is a critical ingredient in the security industry, by emphasising the importance of honesty in our day-to-day relationships, we help to create an environment, which is valued by our customers.
Experience
We always establish clear achievable goals for our business. Our standards reflect a desire for excellence. We always remain focused as an organisation in pursuit of our goals.
Innovation We take pride in learning new skillstechnology from others both locallyfrom around the world. We constantly attend training seminarsare at the crest of the technological wave.